Behaviour of Cattle, Pigs, Buffalo and Antelope During Handling and Transport
---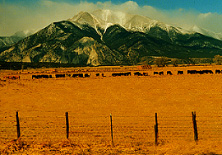 ---
Recommended Basic Livestock Handling Principles
Guidelines for Livestock Holding Facilities
Training Tips For Flighty, Very Excitable Animals (Antelope and Bison)
Recommended Trucking Practices
Loading and Unloading Animals Properly
Assessment of Stress During Handling and Transport
Review of Literature on Transport of Cattle, Pigs, Sheep, Horses, Deer, and Poultry
---
Additional Links
Link to Temple Grandin's video collection on Livestock Handling
Temple Grandin Research Gate Site - Social networking for scientists
Cattle Handling tips - Facilities (YouTube Video)
Low stress pig handling training videos
Colorado State University. Access to research done at Colorado State University on meat safety, genetics, and behavior.
LibrarySpot. This is an index to many library sources.
NetVet. This website is a great veterinary resource with numerous categories and extensive data.
The National Cattleman's Beef Association. This website contains information on many subjects and links to other internet resources.
The National Pork Producers Council. This website contains just about everything there is to know about pigs and pork, from industry news and education to recipes.
American Society of Animal Science. Access articles published in the Journal of Animal Science.
National Agriculture Library. Search the extensive agricola database of scientific articles at the National Agriculture Library.
Gatewey to the CAB database of scientific articles.
Scientific organization of Australia with a large database on agricultural research.
Searchable database of Australian research on agriculture and livestock.
Ontario Ministry of Agriculture - Index to extensive information on livestock.
Google - A search engine that really works.
Beef Cow-Calf - A Resource Guide from BEEF magazine devoted exclusively to beef cow-calf production.
More great links on the index page of the Animal Welfare section of this website.

---

Click here to return to the Homepage for more information on animal behavior, welfare, and care.