Recommended Ritual Slaughter Practices
To Improve Animal Welfare
And Employee Safety

Safety Tips for Workers
Shackling and hoisting large cattle and calves can be very dangerous. It has caused many serious accidents such as loss of an eye, permanent knee damage and head injuries from kicking and falling shackles. In one plant, replacement of the shackle hoist with a restrainer resulted in a 500 percent reduction in accidents. Shackling and hoisting of live sheep is also hazardous. There have been several incidents of teeth knocked out.





Center track restrainer being used for ritual slaughter.
The animal is being restrained in a very humane manner, comfortably upright. A person can hold the head of calves and sheep. For adult cattle, a mechanical head holding device is used.






There are humane options to shackling and hoisting animals.

Conveyor systems with headholder chin lifts provide a calmer animal, and a safer environment for workers.
The ASPCA pen is another humane option available for humane ritual slaughter.
CONVEYOR SYSTEMS

To induce the cattle to stay still and ride quietly, the solid hold down rack MUST be long enough so that the animal entering the restrainer can NOT see out until it's feet are completely off the enterance ramp.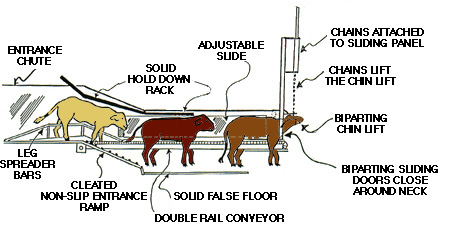 Detail showing double rail restrainer and chin lift.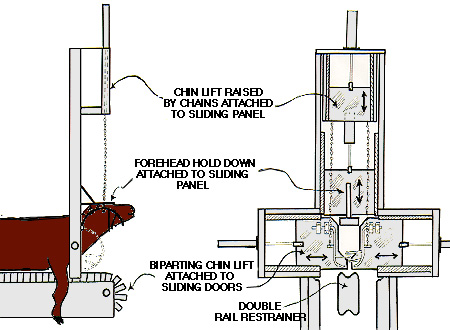 Headholder for the double rail restrainer.
Another humane option for ritual slaughter. This device holds the animals head comfortably and allows a Rabbi to perform the Kosher cut with the animal quietly restrained.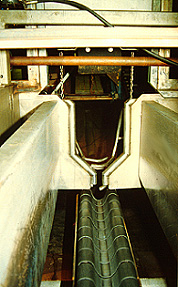 Cow's eye view of the head holding device for ritual slaughter on the center track double rail restrainer.
ASPCA PEN

Upright kosher restraint box
Side view illustrating the proper cattle position for restraint.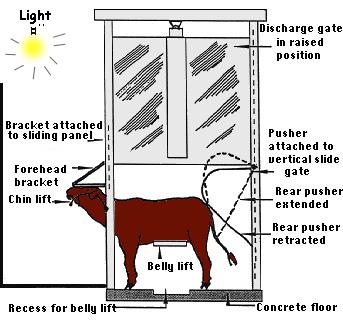 This drawing illustrates (on the left side, in front of the animal) the solid barrier that is necessary to block the animal's vision.
The sides of the ASPCA box must also be completely solid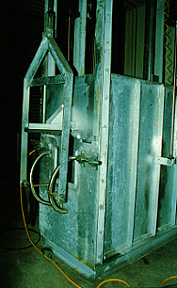 Restraining box with headholder for ritual slaughter holds the animal in an upright position.